Back Pain Therapy Teacher Training
An in-depth study of Zen Ki Yoga®, the meridians, diet, the principals of yin & yang and Traditional Chinese Medicine in relation to spinal health.
Learn about the foods that heal and hurt the spine.
"I have had so much success in helping clients with serious back pain become pain-free and I want to share this unique information with as many people as possible." Janie Larmour (founder of Zen Ki Yoga®)
Hear from just two of many of my many clients...
I was in a serious car accident 9 years ago. For many years I have tried all treatments with physiotherapists, acupuncturists, chiropractors and pilates but i was still on pain relievers as nothing really helped. I have been doing Zen Ki Yoga for 3 months and have finally experienced days of no pain and am not on medication anymore as I felt much better almost immediately - after a month of going twice a week and doing yoga at home. If I had known about Zen Ki Yoga many years ago, I would have not endured the physical torment I have given to my body for over the past 9 years with medication, when I had the accident I had a team of rehabilitation specialists and none of them thought about Zen Ki Yoga, I thank Janie for being so understanding and patient also she has given me the tools of knowing my strength and weaknesses. Thank you Janie for changing my life xx
Caroline A. - Penrith, Australia

Doctors told me I had to give up all the things I loved and have an operation to fuse my lumbar spine. Determined to fix myself and live drug and operation-free, I was recommended Zen Ki Yoga® by a friend and haven't looked back since.
Zen Ki Yoga® has been able to heal me in ways that drugs, doctors and physios were not able to. This is why I wanted to become a Zen Ki Yoga® teacher.
Susan Cameron-Jung - Zen Ki Yoga® teacher - Sydney, Australia
This work will be like nothing you've ever seen or learned before. LEARN A WHOLE NEW SKILL!!!!
This course consists of:
4 healing Zen Ki Yoga® classes that you can learn to teach safely to your students with confidence
comprehensive and easy to understand anatomy of the spine
detailed information of the meridians and related Traditional Chinese Medicine that relates to the spine, back pain and how to use this information for healing
learn all about which foods heal the spine and hurt the spine
learn about the emotions directly related to the spine and how to address these with your clients in a safe way without issue, confrontation nor requiring a psychology degree!!!
lots of learning that will change your teaching, the health of your clients and allow them to do more yoga with you xxx
After suffering several accidents causing damage to her spine/lower back at the age of 15 during her competitive springboard diving and trampolining career, Janie finally learned the tools to heal her debilitating lower back pain. For years she was a successful personal trainer with a red carpet list of celebrity clients, but even during these years, she still suffered from back pain. It wasn't until she honed her skills in Japanese yoga and used all of her knowledge to develop Zen Ki Yoga®, that she became pain free. She has gone on to help 1000's of clients with many body alignment issues, serious health issues, digestive and women's health issues. Zen Ki Yoga is like nothing you've ever done before and you are about to find out WHY Zen Ki Yoga® is the most effective healing system you'll ever learn.
Course requirements:
hand in your pose tutorials templates fully completed
Commit to this course just as if you were attending face-to-face training.
it is suggested that you try to do 4-5 hours of study/week over 4 (or more) months and 3 hours of the actual yoga = >110 hours!!
you are required to send us a 20-30 minute video of your class while you are teaching (so we can see your students and hear your instruction). We need to see that you have grasped the information and can safely and successfully deliver this in a teaching environment. There will be feedback and you may need to repeat this process so that you get it right.
Face-to-Face Workshops
Face-to-Face workshops will be held in Sydney, Melbourne, Gold Coast, Brisbane, Adelaide, Canberra, London, Fort Lauderdale and Los Angeles throughout the year. While it's ideal to attend one of these, we understand that not everyone can get to them due to distance etc. We will give plenty of notice for each. If we get enough people from other areas, we will hold these workshops in other locations also. We will be also holding a slightly shorter version of the workshops live ONLINE. Email [email protected] for details are look online under 'training/study' on our studio website www.thecentreofyoga.com
Your Instructor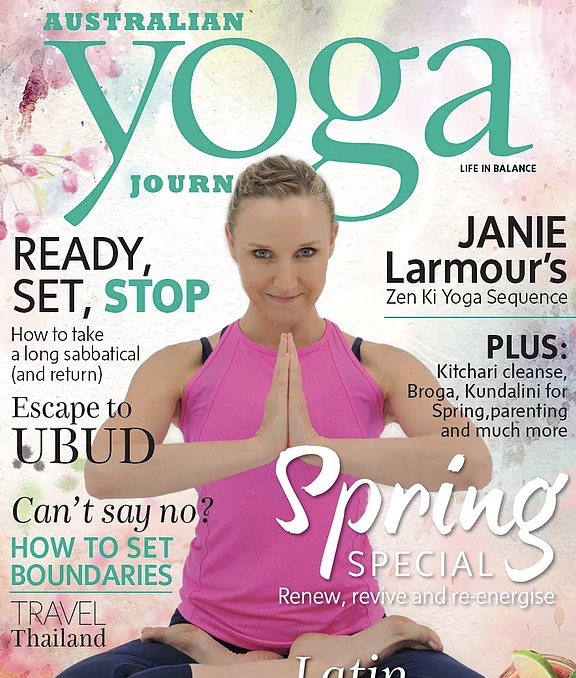 Janie Larmour has been looking after people's health for 29 years and is renowned for her impassioned yoga instruction, extensive knowledge and unique teaching style, which incorporates impeccable alignment with a true appreciation of human anatomy.
She has been teaching yoga for 24 years, specialising in Zen Ki Yoga® and ran the yoga studio The Centre of Yoga for 13 years. www.thecentreofyoga.com with two studios in Sydney, Australia an online yoga website www.zenkiyogatherapy.com featuring over 100 specific healing and general wellbeing classes and ONLINE courses for teachers and general interest for non-yogis and had over 20 yoga DVDs which were sold internationally.
Since 2008, Janie has been a regular speaker at yoga conferences and festivals in Sydney, Brisbane, Melbourne, Canberra (Australia) and the International Yoga Festival in New Zealand, the Om Yoga Show in London and Manchester and the USA in cities including Fort Lauderdale, Los Angeles, Beverly Hills, Denver, Houston, Washington DC, Silicon Valley, San Diego and Downtown LA. She is also a regular guest teacher at BOLD MindBody Conference in the USA being invited to teach at their conference in San Diego, Anaheim and New York City.
Janie also leads comprehensive teacher training courses all over Australia and worldwide in person and online, training workshops, yoga retreats and regular classes.
Apart from the Teacher Training Diploma courses, Janie teaches workshops for teachers and the general public such as bladder strengthening, anxiety, women's health (including healing period pain & endometriosis, 'The Truth About Food', breathing workshops, 'Anatomy and Movement for Yoga Teachers' and 'Back Pain Therapy Teacher Training' (Australia wide/International).
Course Curriculum
The first full Back Pain Class
Available in days
days after you enroll
Zen Ki Yoga Theory - lectures
Available in days
days after you enroll