Post-Graduate Zen Ki Yoga® Teacher Training Module to qualify yoga teachers of any style of yoga to teach Zen Ki Yoga® safely and effectively. You will learn three complete Zen Ki Yoga® classes and two shorter sequences that you may chose to do at the beginning, during or after your current yoga classes. This course is also for personal trainers, pilates teachers, shiatsu practitioners and other body workers.
The psoas muscle is easily released with Zen Ki Yoga® using the principles of yin and yang, the meridians that relate to this muscle group and modern muscle release techniques.
Once you learn this work and use it on yourself and your clients, you will be amazed at the changes to your body and the health of your spine and your MIND xx
The course consists of:
detailed video for you to study of the three Zen Ki Yoga® Psoas Release classes with comprehensive instruction for every pose
tutorials for each individual pose
Zen Ki Yoga® Psoas Release training manual
two shorter sequences to use during your current classes
class templates so you can have the class in front of you while teaching
detailed Anatomy study of the psoas, the lower back, the related meridians and more...
detailed Anatomy & Physiology of the body in relation to how the psoas relates to hormones, blood flow, emotions, posture and more...
Course requirements:
hand in necessary assignments
5 hours/week over two months of study of this course = 45 hours of study + at least 15 hours of doing the actual Psoas classes (or other classes if you are signed up to the online classes = 60+ hours
you are required to send us a 20-30 minute video of your class while you are teaching (so we can see your students and hear your instruction). We need to see that you have grasped the information and can safely and successfully deliver this in a teaching environment. There will be feedback and you may need to repeat this process so that you get it right.
Face-to-Face Workshops
Face-to-Face workshops will be held in Sydney, Melbourne, Gold Coast, Brisbane, Adelaide, Canberra, London, Fort Lauderdale and Los Angeles throughout the year. While it's ideal to attend one of these, we understand that not everyone can get to them due to distance etc. We will give plenty of notice for each. If we get enough people from other areas, we will hold these workshops in other locations also. We will be also holding a slightly shorter version of the workshops live ONLINE. Email [email protected] for details are look online under 'training/study' on our studio website www.thecentreofyoga.com
Your Instructor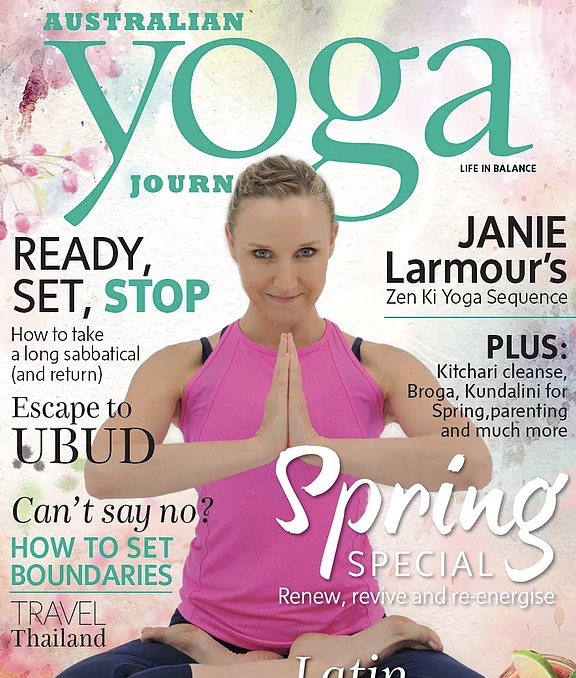 Janie Larmour has been looking after people's health for 29 years and is renowned for her impassioned yoga instruction, extensive knowledge and unique teaching style, which incorporates impeccable alignment with a true appreciation of human anatomy.
She has been teaching yoga for 24 years, specialising in Zen Ki Yoga® and ran the yoga studio The Centre of Yoga for 13 years. www.thecentreofyoga.com with two studios in Sydney, Australia an online yoga website www.zenkiyogatherapy.com featuring over 100 specific healing and general wellbeing classes and ONLINE courses for teachers and general interest for non-yogis and had over 20 yoga DVDs which were sold internationally.
Since 2008, Janie has been a regular speaker at yoga conferences and festivals in Sydney, Brisbane, Melbourne, Canberra (Australia) and the International Yoga Festival in New Zealand, the Om Yoga Show in London and Manchester and the USA in cities including Fort Lauderdale, Los Angeles, Beverly Hills, Denver, Houston, Washington DC, Silicon Valley, San Diego and Downtown LA. She is also a regular guest teacher at BOLD MindBody Conference in the USA being invited to teach at their conference in San Diego, Anaheim and New York City.
Janie also leads comprehensive teacher training courses all over Australia and worldwide in person and online, training workshops, yoga retreats and regular classes.
Apart from the Teacher Training Diploma courses, Janie teaches workshops for teachers and the general public such as bladder strengthening, anxiety, women's health (including healing period pain & endometriosis, 'The Truth About Food', breathing workshops, 'Anatomy and Movement for Yoga Teachers' and 'Back Pain Therapy Teacher Training' (Australia wide/International).