Anatomy & Movement for Yoga Teachers
Take your teaching to the next level. Explained in easy-to-understand terms.
A thorough understanding of anatomy and the way your body moves gives you a deeper understanding of accessing meridians and using yoga as therapy to heal serious body misalignment issues!!!
Become an anatomy EXPERT…

It's great to work our meridians, but, for example, when you know that while stretching your stomach meridian, you are also stretching your psoas muscle, which has a strong relationship to your kidney, your fear reflexes and your hormone flow and by knowing where the psoas originates and inserts in the body, you can access it and release it much more effectively!! Learn lots of similar tricks with other parts of the body to go further in your teaching abilities and the results you achieve.
If we understand the way muscles and movement works, our teaching becomes more effective, more safe with deeper access to our poses and the meridians!!!
This course is for all yoga teachers – even if you don't work with meridians.
CONTENT:
Foundations of Anatomy
Body tissues (connective, muscle & neural)
The skeletal system, types of bones, bone structure, how bones heal
Muscles of the body, types of muscles
Joints, types of joints, ligaments, tendons
Skin, fat, fascia
The 12 meridians – a brief overview
Systems of the body, physiology and more
The digestive system
The circulatory system
The respiratory system
The nervous system
The endocrine system
The immune & lymphatic systems
The urinary system
The reproductive system (male and female)
The core
Fascia in more detail
Homeostasis
Metabolism
Movement
Functional movement 101
The spine and neck, spinal disorders, pain, discs, facet joints, the nervous system's relationship to the spine
The hip joint and pelvis (with hip workshop)
The shoulder, elbow & wrist joint
The knee & ankle joint
Muscular origin and insertions
The psoas, piriformis & QL
The core and how to strengthen it properly
Proprioception
Rules for muscle movement and techniques to improve flexibility and open problem areas faster and safely, nerve reflexes, PNF stretching, activating opposing muscles
Breathing
The primary and secondary breathing muscles, anatomy of breath
Types of incorrect breathing and why we form these patterns
Associated physical, mental and emotional health issues
Learn to breathe optimally
Breath techniques for energy, alertness, calming the mind, stimulating creativity, for sleeping
Note: this course contains a brief look at the meridians for the purpose of location and understanding of what is being worked in terms of functional movement in regard to western anatomy. If you wish to learn the meridians in detail, they are in each of the 5 element modules.

Your Instructor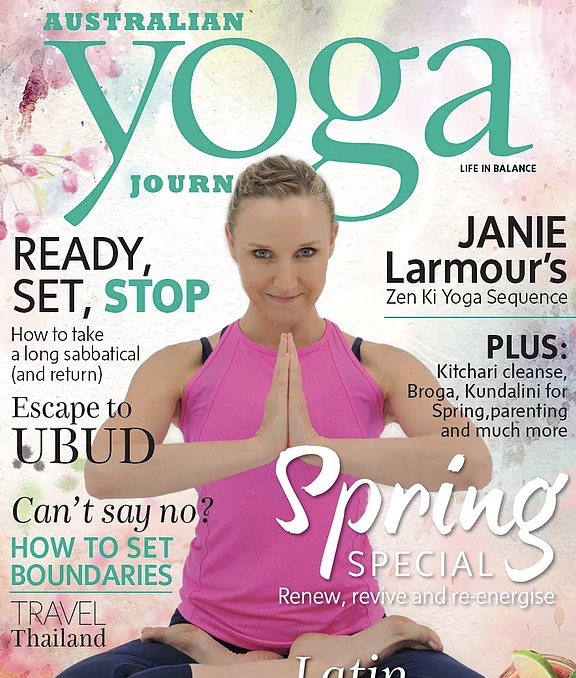 Janie Larmour has been looking after people's health for 29 years and is renowned for her impassioned yoga instruction, extensive knowledge and unique teaching style, which incorporates impeccable alignment with a true appreciation of human anatomy.
She has been teaching yoga for 24 years, specialising in Zen Ki Yoga® and ran the yoga studio The Centre of Yoga for 13 years. www.thecentreofyoga.com with two studios in Sydney, Australia an online yoga website www.zenkiyogatherapy.com featuring over 100 specific healing and general wellbeing classes and ONLINE courses for teachers and general interest for non-yogis and had over 20 yoga DVDs which were sold internationally.
Since 2008, Janie has been a regular speaker at yoga conferences and festivals in Sydney, Brisbane, Melbourne, Canberra (Australia) and the International Yoga Festival in New Zealand, the Om Yoga Show in London and Manchester and the USA in cities including Fort Lauderdale, Los Angeles, Beverly Hills, Denver, Houston, Washington DC, Silicon Valley, San Diego and Downtown LA. She is also a regular guest teacher at BOLD MindBody Conference in the USA being invited to teach at their conference in San Diego, Anaheim and New York City.
Janie also leads comprehensive teacher training courses all over Australia and worldwide in person and online, training workshops, yoga retreats and regular classes.
Apart from the Teacher Training Diploma courses, Janie teaches workshops for teachers and the general public such as bladder strengthening, anxiety, women's health (including healing period pain & endometriosis, 'The Truth About Food', breathing workshops, 'Anatomy and Movement for Yoga Teachers' and 'Back Pain Therapy Teacher Training' (Australia wide/International).
Frequently Asked Questions
When does the course start and finish?
The course will be available from 1st September 2020. The course is currently in pre-sale at 45% off. The full price will be charged from 1st September. You have 12 months access to the course from when it becomes available. From the 1st September, you can start whenever you join. You have 12 months from the date you start. The course can be extended if necessary.